Trinity offers a variety contracting services which includes dewatering contracting and door and window installation contracting. Having executed a large number of prestigious projects in the last three decades, Trinity has become a name synonymous with integrity and versatility. Design, manufacturing and commissioning of specialty doors, dewatering equipment hire, project execution, project management of construction sites are among the key services offered.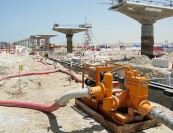 Dewatering Contracting
Trinity is capable of offering extensive dewatering services covering design, consultancy, equipment hire, turnkey project execution and project management. An indigenous manufacturer of dewatering pu...